The 2018 Ponoka Stampede Poster
Own a piece of the Ponoka Stampede's history.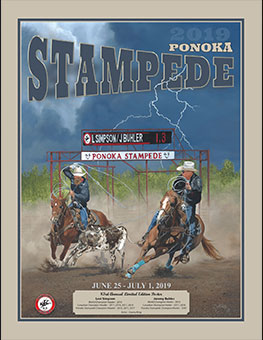 BUY ONLINE
The 82nd Ponoka Stampede Poster features 11x PRCA Stock Contractor of the Year and Lifetime Member of the Ponoka Stampede, Harry Vold. Harry Vold, known as the Duke of the Chutes was born in 1924 and was raised on the family ranch of parents Nansen and Kristen Vold in the Asker district, 15 miles east of Ponoka. The Vold's were one of the first pioneer families to settle in the Asker district in the late 1800's.
Harry Vold has always considered his horses and bulls, among the best athletes in the rugged business and his trophy room is full of the many awards and honors that he and his legendary bulls and broncs have received over the past 60 glorious years. Along the way he has gained the long-standing respect and friendship of rodeo contestants, officials and fans as well as the generations of infield acts that he has promoted and encouraged to present their unique and colorful skills in front of the packed grandstands.
The Limited Edition Poster was painted by Alberta's Western Artist, Donna King. Donna was born in Edmonton AB in 1955. After spending her childhood on a farm just outside of Edmonton she resettled near Leduc AB in 1975. Donnas love for horses was evident at an early age as she worked on pencil sketches for her mother. Her love for vibrant color led her to oil paintings and she started getting requests for paintings on hand saws and circular saws. For many years she had sold-out shows at the Ponoka Stampede Art Show. For the past eight years her paintings have been juried into the Western Art Show and Auction in Ellensburg WA. Two of Donna's paintings have been accepted into the 2011 March in Montana Auction in Great Falls MT. Donna only paints about four or five paintings per year and most have sold in Canada the USA and Japan. This self-taught artist loves to paint what she knows the west country wildlife horses dogs cows and a cowboy.
This is your chance to own a piece of the Ponoka Stampede's history. A limited edition of 85 prints have been produced and are being offered for sale for $100.00 plus GST each, and the original artwork will be up for sale at the Ponoka Stampede Art Auction. Prints will be on sale starting December 1 2017 at the Jones Boys Saddlery locations in Ponoka or Red Deer, or through the rodeo office at (403) 783-3120.
SOUVENIRS
Official Souvenir Merchandise
Ponoka Stampede's Official Souvenir merchandise is available during the Ponoka Stampede in front of the Main Grandstand and at the Jones Boys Saddlery and Western Wear store in Ponoka.
Jones Boys Saddlery and Western Wear
4209 Highway 2A Ponoka, AB