SOLD OUT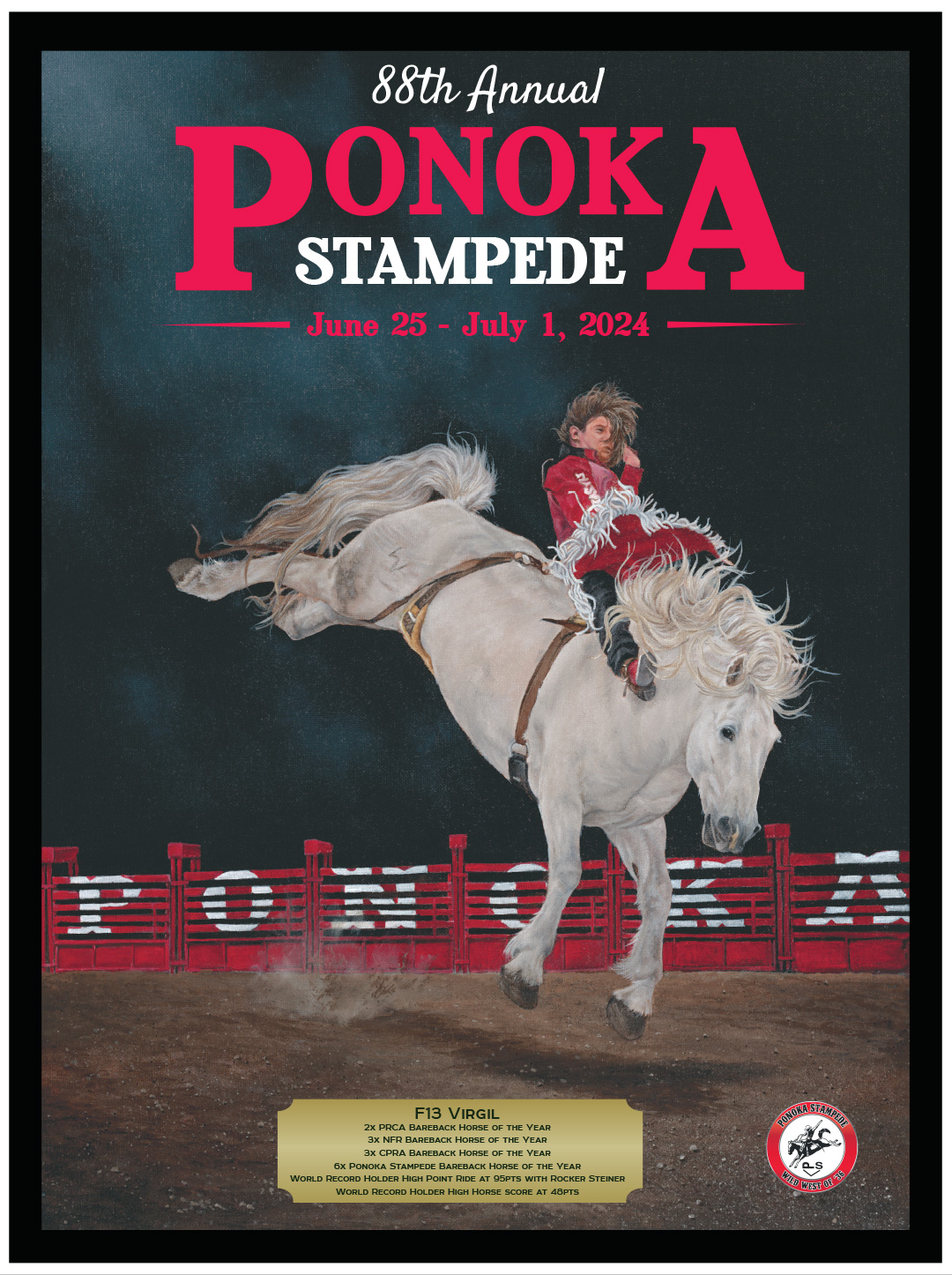 This years poster is sold out!
87th Official Ponoka Stampede Poster
Featuring 3X World Saddle Bronc Champion, 3X Canadian Saddle Bronc Champion, 2X Ponoka Stampede Saddle Bronc Champion, Alberta's Zeke Thurston.
87th Ponoka Stampede Poster featuring 3x Saddle Bronc World Champion, Alberta's Zeke Thurston. Written by Dianne Finstad
When rodeos have a legacy as rich as the Ponoka Stampede, posters promoting each year's event become a piece of history, not to mention a collector's item.
The 2023 Ponoka Stampede poster celebrates a local legend, whose story is still being written.
Zeke Thurston is the literal 'poster boy' for Ponoka and he couldn't be more pleased. "It's a cool poster. That's a big honor," says Thurston, who has already laid claim to three Canadian saddle bronc riding Championships, as well as three World saddle bronc riding titles and two Ponoka Stampede titles.
The Big Valley cowboy is very much 'at home' at the Ponoka Stampede. "My Dad used to run the scoreboard there, a long time ago. I've got memories of running around as a kid, and hanging out there all week with a bunch of us 'hood rats when we were little," recalls the 28-year-old.
Thurston first experienced the thunder of the Ponoka Stampede crowd as a youngster, when he and his brothers Wyatt and Sam rode into the arena as the Thurston gang with their award-winning trick riding and roping act.
Then there was steer riding – Ponoka was Thurston's second ever rodeo riding steers, and he won second place.
"That was a pretty big deal at the time." It was in 2016 that the talented young bronc rider first began to ride away with major Ponoka Stampede cash for his saddle bronc riding exploits, winning the finals and the average. Then in both 2017 and 2019, he claimed the Showdown titles and all the spoils in the event. Ponoka bucks have helped substantially on his road to Canadian and World titles.
In 2019, for instance, he swept first in all categories at Ponoka, collecting over $21,000. "That was the only rodeo I placed at on the run, and I was in the top three money earners for the bronc riders over the fourth of July that year. So it's pretty cool that you can win that much money out of there."
"It's an iconic rodeo. You could be in South Texas or California and rodeo fans, they ask about the Ponoka Stampede. 'What's it like?' People know about it, and they should. It's a darn good rodeo."
2022 was an amazing season for Thurston, ending in a dramatic climax with his last ride at the Wrangler National Finals Rodeo in Las Vegas where he maximized his eight seconds on a horse called, ironically, All or Nothin', to clinch his third gold buckle. "I would have to say this last one is definitely myfavorite. To come in $120,000 back and to do as well as I did, to win the tenth round, tie the average record, win the average, and win the world and the Top Gun, all in one ride. I don't know if I'll ever experience that again. I don't know if there's any bronc rider out there that's ever experienced that. Then to have a Canadian title and Canadian average in the same year on top of that, it was unbelievable, really," marvels Thurston.
The cowboy seems to have an uncanny ability to find another gear of great at the big events. "From a very young age, I was fortunate to be in a lot of those pressure cooker situations and come out on top. It gives you confidence. Going in, my mindset is always the same. I'm real big on the basics, stick to the fundamentals. The best and greatest guys in every sport are the guys that just keep at the fundamentals the best."
Thurston kept his momentum rolling over the winter, making the final rounds at all the big U.S. shows, collecting close to $70,000 to kick off his 2023 run. It'sshaping up to be another significant year for the bronc twister in other ways too, as he's developed his own brand identity and is embarking on some new business ventures. Plus, this summer he and his wife Jayne are building a house for their family on the Big Valley ranch. "You can only step on so many toy bucking bulls and horses before you need more space," he chuckles. Chances are good the trophy room of his new home will include the 2023 Ponoka Stampede poster!